I don't like Roadrage by Martin Johnson; couldn't put it down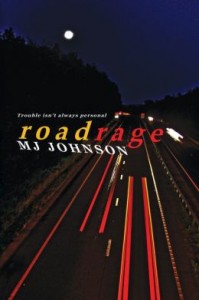 Roadrage is really not my cup of tea, a psychological thriller in the vein of Cape Fear or Play Misty for Me or The Talented Mister Ripley or Rear Window. I don't like the idea of a decent person persecuted for no particular reason because it's just so upsetting an idea, which makes this a good novel but one I just cannot honestly say I enjoyed, even though I stayed up late several nights reading it.
I think, sadly, that we're all accustomed to the idea of being the victim of one person's homicidal rage, as in the numerous school, movie theater, church and shopping center shootings. It has become so common in America that too many just shrug their shoulders and put such horrors in the same category as being struck by lightning or dying in an airplane crash. And we've all seen movies where someone sees something they shouldn't have—the classic wrong place at the wrong time that Alfred Hitchcock did so well—or the district attorney or cop who is targeted by a criminal seeking revenge. Those movies (or the books on which they were based) usually involve the hero in some way being complicit in the horror that will rain down on them.
a truly horrifying novel that I can never really like, but I can heartily recommend
Gil Harper in Roadrage, however, is in no way liable for the punishment he receives at the hands of author Johnson. He's a good and decent man (doesn't cheat on his taxes, gives to charity) who's finally coming to terms with the death of his wife five years earlier. He's a book illustrator of some renown, currently writing his own book and he's even dating again. But a bizarre incident of road rage after coming home from spending Christmas with his in-laws starts a chain of events of which he's unaware. Yes, it has an element of Hitchcock's wrong man at the wrong place, but it progresses precisely because Gil Harper is a good and decent man, and that, to me, makes this a truly horrifying novel that I can never really like, but I can heartily recommend.
A good part of this book can simply be read as a romance between Gil and Sally Curtis. It slowly develops despite the threat from Sally's abusive ex-fiancé and it survives despite the death of Gil's good friends and another death in which both Sally and Gil are possible suspects. The book has a pretty high body count and throughout the novel you're worried who will die. Gil's dog Spike, a Jack Russell terrier, is a particular joy in the book, as is author Johnson's knowledge of the theatrical world (Johnson is a Royal Academy of Dramatic Art trained actor).
By far the most disturbing aspect of the book is the interstitial comments by Gil's nemesis, a nemesis of whom Gil is unaware for the majority of the book. At first I found these comments annoying, and then I realized that I really found them horrifying. If this were a movie, we'd be seeing this nemesis going about his machinations, but as a book, it makes more sense to simply go inside his head, and that's really much more awful.
You may also enjoy Johnson's previous book, Niedermayer & Hart, which is a supernatural horror story that I very much enjoyed.