What I'm reading: Camouflage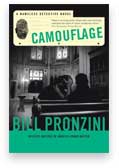 The Nameless Detective returns for the — I don't know, how many times, but it's in the forties — time with Camouflage. I am a long time Pronzini fan and was fortunate enough to buy my copy at Murder by the Book here in Denver.
A sad note: Murder by the Book is closing the store and will be online only.