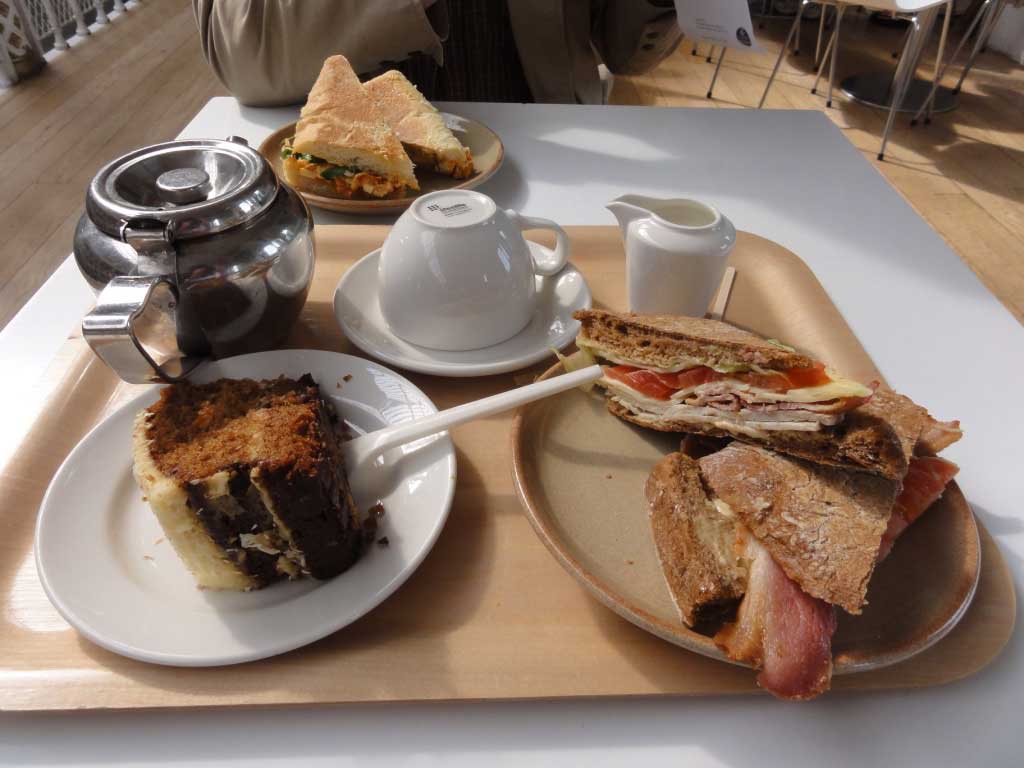 I was first going to write this post as a sweeping generalization of dining in the UK, but I thought better of it. I never, however, had any intention of disparaging British cuisine because I have enjoyed the overwhelming majority of my meals while in the UK. I am not by any definition a gourmet or foodie, however, and so rather than pronounce judgment, I just thought I'd relate some of the meals I've had, address a few of the stereotypes that still ring true and complain about tipping—or rather non-tipping.
Scottish/Welsh treats
I did try haggis in a cottage pie with neeps and tatties and it was quite good, especially with Tabasco. The haggis tastes like lamb, even if it is made with off cuts, and you can detect the oats. The neeps (turnips) and potatoes are a little sweet and were the topping of the cottage pie. What I never got around to trying was cullen skink, essentially a chowder made with smoked haddock. Again, I think it would be good with Tabasco, but then I think just about everything is better with Tabasco. I never tried oat cakes because it never came up and not because I share Doctor Johnson's opinion on the matter of oats: "a grain, which in England is generally given to horses, but in Scotland supports the people." (That's for you, Chris.)
While in Wales, I had several bowls of potato and leek soup. Even though we had amazing weather this last trip (not even a full day of rain out of 15), there were several times when a nice hot bowl of soup was welcome. The one time I was ready to order Welsh rarebit, I demurred when I learned it was made with some unholy adulteration to the classic recipe.
Most of my UK meals have been enjoyed in the cafes of the various attractions we toured. If you visit the The Tower of London, Edinburgh Castle or Hampton Court, you'll probably spend the majority of the day there (to do justice to the Victoria and Albert Museum, the Museum of Scotland or the British Museum, you should spend several days) and you will get hungry about 1 p.m. What's surprising is how good the food at these cafes are. There's always a hot item on the menu, and by that I don't mean a hamburger. Instead you'll find some sort of cottage pie and occasionally a roast and there's always an afternoon tea or cream tea. Order tea or coffee and you get always get a proper pot and there are incredible desserts. There's usually an upscale restaurant as well at many attractions, but we generally avoided those because we wanted to maximize our time.
I've had shepherd's pie at the New Armouries restaurant (really a cafeteria) at the Tower of London, a delicious pork loin sandwich at the V&A and a cottage pie with haggis and neeps and tatties at the Red Coat CafeIt was so good we somehow managed to miss the 1 p.m. gun at Edinburgh Castle. Usually without asking for it, you'll get chips (fries) and some vegetables with whatever hot item you order. Several times at pubs we saw that the lasagna came with chips.
Of course while in the UK, we tried to avoid any sort of American dining. Instead we ate at pubs, fish and chip shops and hotel breakfast buffets. We generally avoided out and out restaurants except for ethnic foods like Indian and North African (I had an incredible tagine dish of chicken stuffed with couscous and currants in 2001).
We have eaten at Italian restaurants in London, where our American appetite for red sauce was confused by the béchamel sauce in the lasagna. To our plebeian tastes, nutmeg doesn't belong in lasagna.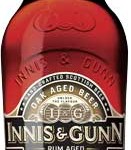 We had an extremely good order of fish and chips at Taste of Scotland on the Royal Mile, really just a hole in the wall that calls itself a restaurant very near the castle. We weren't expecting much but we really enjoyed the very hot batter fried fish and chips and even the mushy peas were appetizing. I did ask for a Sprite and specially requested ice, which brought a smirk to the waiter's face. I did get at least five cubes of ice, for which I was grateful. Jim also ordered an extremely good local brew, Innis & Gunn rum-aged Scottish beer.
Our best fish and chips experience, however, was in Ellesmere in Shropshire. We were all exhausted and were hoping for a substantial meal at the Red Lion, but after waiting quite a while for our order, our waiter informed us that the explosion we might have heard meant it might be quite some time until we could eat. We explained that as we were famished we would go elsewhere and were graciously comped our drinks and the two starters that had been ordered. So instead we ate at Mario's Place round the corner and the four of us ordered fish and chips to go. Everything was doused in malt vinegar and our clothes were permeated with the smell of fish and oil.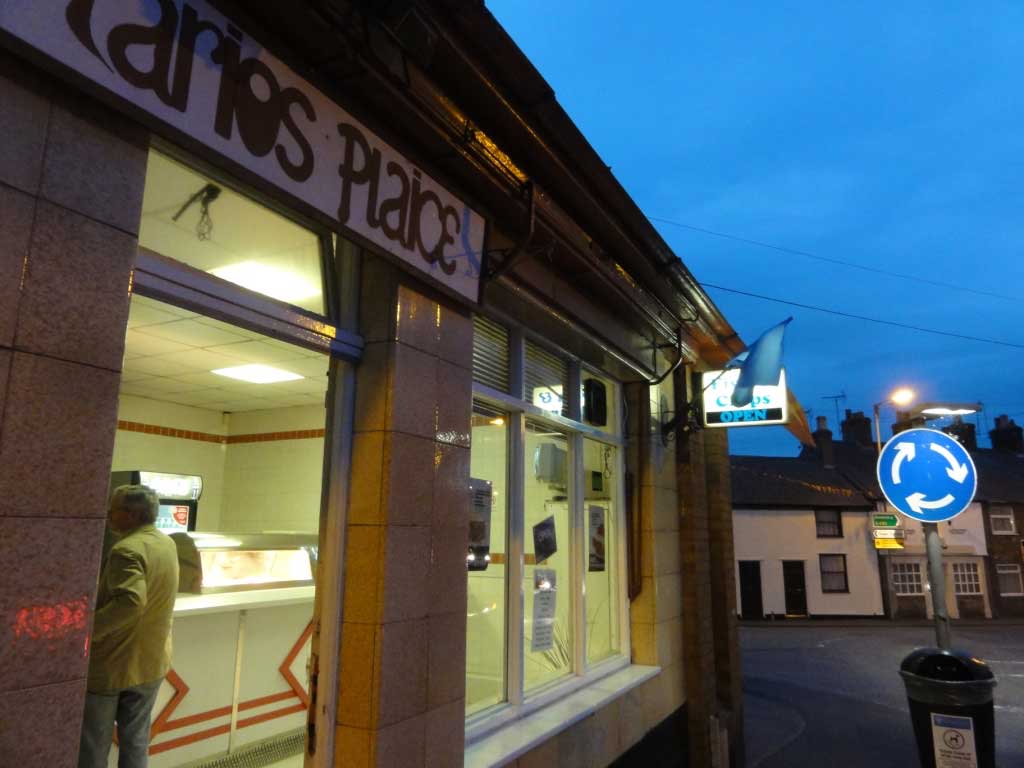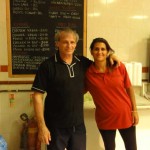 Often at pubs I ordered a steak pie or at The Albert in Bowness-on-Windermere the Sunday roast, which came with a thick slice of roast beef, gravy, mashed potatoes, Yorkshire puddingSort of an overinflated pancake or soufflé made with eggs, milk, flour and often beef drippings and an enormous side bowl of cauliflower and broccoli for the table to share. The Albert was another place where the American fondness for ice is perhaps too well celebrated, when a barmaid actually filled my half-pint glass with ice before pouring my ale. I stopped her in time and she said to me, "You never saw that," in a sort of "these are not the droids you're looking for" intonation.
At The Albert, we encountered a woman who seemed the embodiment of Miss Marple. She appeared to be in her late 70s, traveling alone, wearing a dress, comfortable shoes and a walking stick. She had probably left her binoculars in her hotel room. She asked to look at the map we'd been given at our hotel and we gladly let her keep it. She looked either like a spinster detective or the friend of the spinster detective whose supposedly accidental death would begin a complicated web of intrigue reaching to the highest levels of government.
One restaurant where I ordered the wrong thing, as compared to my companions who ordered the right thing, was the Navigation Inn in Maesbury right on the Montgomery Canal. This was an exceedingly nice restaurant that had had a trying summer because their end of the canal had been closed for 14 weeks because of a leaking lock. It was also special to us because of the picture of inn owners Mark and Brent with Prunella Scales and husband Timothy West who had eaten there while filming their Channel 4 Great Canal Journeys series. The Llangollen episode influenced us to travel the Montgomery.
The building was charming, service was great, Mark and Brent were entertaining and Lee and the two Jims ordered either beef or lamb and raved about their choices. Stupidly I ordered the tandoori chicken, both because I had eaten a fair amount of beef so far and because I like tandoori chicken, but it was a mistake. It was a chicken breast with rice and naan, but pub naan and naan at an Indian restaurant are distinct species. Everything was dry, even though I'd been assured the locally grown chicken could withstand the high tandoori temperature, and I envied my husband's ratatouille and succulent lamb. I really hope I can revisit the Navigation Inn and try another dish there.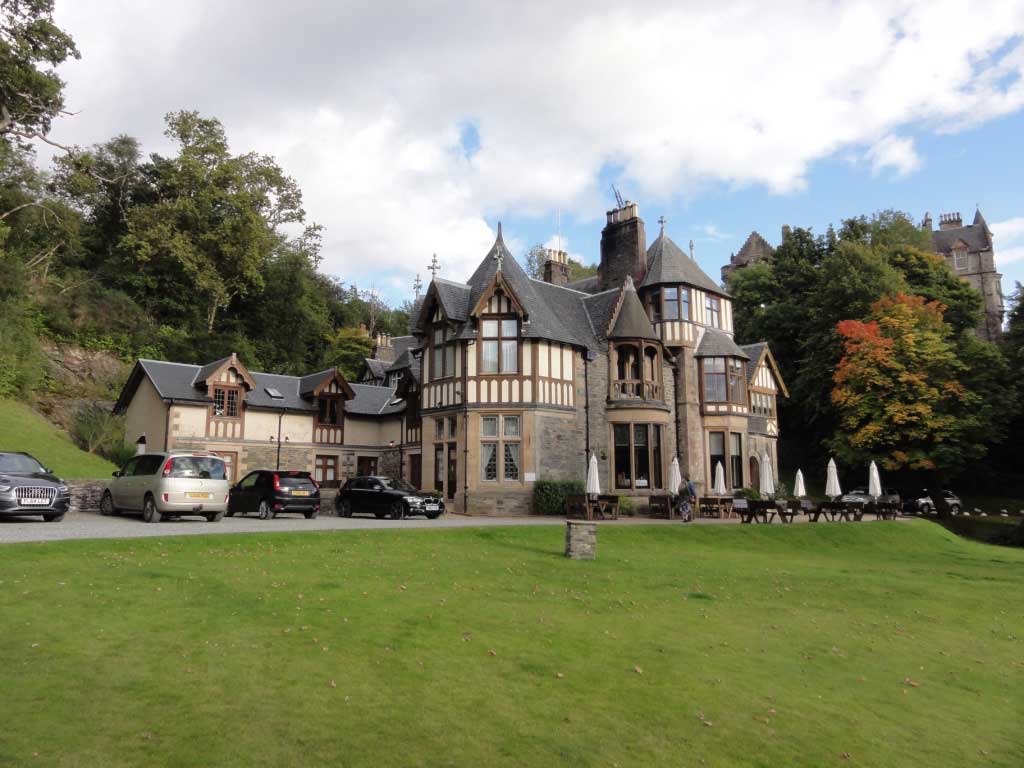 My other big disappointment was at the beautiful Knockderry House Hotel on the banks of Loch Long in Scotland. Perhaps a true foodie would have enjoyed my meal, but I'm not a fan of nouvelle cuisine. I appreciate stressing locally grown and raised food and fresh ingredients, but I don't know why that should also mean minuscule portions. I knew I was in trouble when  another diner asking about the macaroni and cheese on the menu was informed that it was deconstructed macaroni and cheese. I ordered the chicken after being informed the meals stressed savoring every part of the animal you were eating, so that in addition to the breast I would be eating, I would also eat some sort of chicken croquette and even a pâté. Those who know me realize that my eating pâté is pretty adventurous, but surprisingly I was able to enjoy what little there was of it. I was not alone in enjoying small portions. The only satisfying looking plate belonged to Lee's brother, who ordered the beef (it was also the most expensive offering). At least we were all offered a complimentary molecular foam soup, made I think from cauliflower, that although microscopic, was hot and tasty for cauliflower. Please don't think less of me when I say everything would have been improved by Tabasco, because it was  bland.
Food at the Knockderry continued to disappoint the next morning at breakfast. We knew that we had not paid in advance for full service, but we were informed at dinner that we could enjoy the complimentary continental breakfast of milk, juice and cereal. Although not generous, we thought we could get by until we realized that coffee and even toast were not complimentary and would cost £4.50. You could order a full Scottish breakfast for £12, but Lee discovered her scrambled eggs and bacon also cost £12. So basically any food cost £12.
I did find the staff very pleasant and the service was excellent and the view from the dining room was gorgeous. I wish we could have stayed an extra day to enjoy the loch and the hotel and I'd be happy to stay there again, but definitely not eat there.
In contrast, the complimentary breakfast buffet at the Craig Manor Hotel in Bowness-on-Windermere was fantastic, as was breakfast at the Kellah Farm Bed and Breakfast in Haltwhistle near Hadrian's Wall, where we knew the names of the chickens who'd laid our eggs and where there was a bottle of Tabasco for my eggs.
Other minor praises/complaints
One thing I really missed was lemon with my tea. It's silly and I learned to add milk to my tea (and confirm that yes, I really am lactose intolerant), but I did miss it. I was directed to some orange slices at the Red Coat Cafe, which goes well with the bergamot in Earl Grey, but still shy of the perfection that lemon adds. I also longed for A-1 and should have satisfied myself with HP sauce. I really wanted my steak grilled, not pan fried and unlike American restaurants where medium rare seems to signify a steak that can still moo, in the UK it simply means medium verging on well done. When I order water with my meal, I just mean tap water with a lot of ice and not a giant bottle of sparkling water. I also don't need to add something to my hamburger—either an abundance of spices or various sauces. I just want ketchup and mustard with some lettuce and tomato. Never forget and ask for pickle on your sandwich because you'll get something like Branston pickle, which completely overwhelms a roast beef sandwich.
Of course these are all simplifications and stereotypes based on very little evidence. I'm sure there are many nice steak restaurants in the UK that grill. I have gotten lemon for my tea before, just not this last trip. I loved the complimentary coffee and tea in our hotel rooms except for the Knockderry, where the contraption was just too complicated.
Tipping remains our biggest confusion when dining. I know not to tip at a pub and I know it's gauche to offer to buy one for the barman upon your first visit. But at a restaurant or certainly at the Knockderry, I desperately wanted to tip (and we did). Some restaurants included a tip on the bill, but that only ever added to the confusion. When we ate at the restaurant at the Macdonald Hotel in Edinburgh, the menu informed us that a gratuity would be included in the bill but when that bill arrived, we could not find it and the restaurant manager informed us that the menu really shouldn't have that language, leaving us wondering what to do. To steal from Wodehouse, we had that hangdog look of Americans trying to figure out a tip in the UK. I actually heard one American ask his waitress, "Please tell me how much I should tip you?"