It's new to me: Billy Boyle review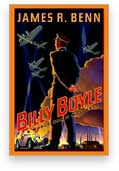 I know you shouldn't judge a book by its cover, but the cover for Billy Boyle: A World War II Mystery had me sold right from the start. It's a gorgeous illustration with presumably the titular character standing proud with a flight of B-17s roaring overhead. But unfortunately for me, with author James R. Benn not at all at fault, I apparently was expecting a different book.
Which shows you shouldn't start reading a book with preconceptions. And I'm not even sure what my preconceptions were, but for some reason I was reading the book constantly thinking, Is this the start? Have we started the mystery? Maybe I was a little confused because I was reading both Ted Riccardi's Between the Thames and the Tiber and Stephanie Barron's Jane and the Unpleasantness at Scargrave Manor at the same time; but for whatever reason, I was expecting a different book.
Maybe I was expecting more of a Sherlock Holmes story with a master sleuth, instead of the story of newly minted Lt. Billy Boyle, late of Boston where he was a newly minted detective, and now attached to Gen. Dwight Eisenhower in London, where he will act as a newly minted and somewhat bumbling investigator. Boyle's no master sleuth and he's mostly in over his head when he's sent to ferret out a spy in the ranks of the Norwegian free forces.
He's aided by Second Officer Daphne Seaton of the Women's Royal Naval Service and Lt. (and Baron) "Kaz" Kazimierz of the Polish Free Forces. Together they investigate the suicide or murder of one of the Norwegian officers who will be part of Operation Jupiter (not to be confused with the after D-Day operation of the same name), the plan to activate the Norwegian resistance that has been organized since King Haakon fled Norway with that nation's gold reserves one step ahead of the Nazis.
But Benn's characterization of Boyle as somewhat hapless is understandable. He's in the war and attached to Eisenhower as part of a misguided attempt to keep him out of the front lines. And he's a detective in name only, having only just achieved that position thanks to some Boston patronage. And family connections also landed him the job with the commander of allied forces. And now he's dropped in the middle of espionage and murder without even a spare change of clothes. He has the occasional display of ratiocination, but for the most part he's asking questions and trusting no one until he has some clue what is going on, and to be honest, it's only after an — in my view — unnecessary death that he can name the culprit. As you can tell, I have a little problem with the death because I haven't quite completely pulled the "I am a writer" switch in my head, that allows one to kill off characters because it's good for the story. I am still a reader, who resents an author for killing off a character I like.
I am, however, enough of a writer to appreciate Benn's decision to separate his two plots and the unequal dispensing of justice, and also to quiet my initial questioning of Ike's decision to employ his greenhorn nephew in so delicate a mission. And Boyle's own espionage mission makes for a gripping story, however unlikely it is that he could go unpunished for his unauthorized actions.
And now that I understand the character Benn has created, I'm sure I know what to expect from the next book, The First Wave, but there I go again with my preconceptions.