Coffee table carcass and drawers finished
Table of contents for Document case
Coffee table carcass and drawers finished
After a very long time, the drawers more or less fit in the carcass of the massive document case/coffee table I've been building for a couple of months. I ran into a few problems, mostly caused by one of the divider/runners that developed a bow. I knew that one of the rails that made up the divider had a slight bow, but somehow the clamping process must have exacerbated it, making the second drawer from the top a very tight fit.
Unfortunately each drawer is now custom fitted into position, so I won't be able to swap them out. Oh well, I found it's pretty difficult to pull out a drawer simply because of its size. (Actually, the top and bottom drawers interchange easily.)
Another problem evolved just from the size of the carcass. It didn't leave much room in my one-car garage and picked up quite a few dings while I was putting it up on sawhorses while sanding. Fortunately it's surprisingly light because of the hollow legs. And I had the usual problem where glue I hadn't properly cleaned up refuses to hold the stain. But despite all the problems, the overall effect is pretty pleasing, I think. Even the crappy oak plywood made nice legs, although I screwed up when laying out the mortises and chose the wrong font face—not putting the best grain facing out.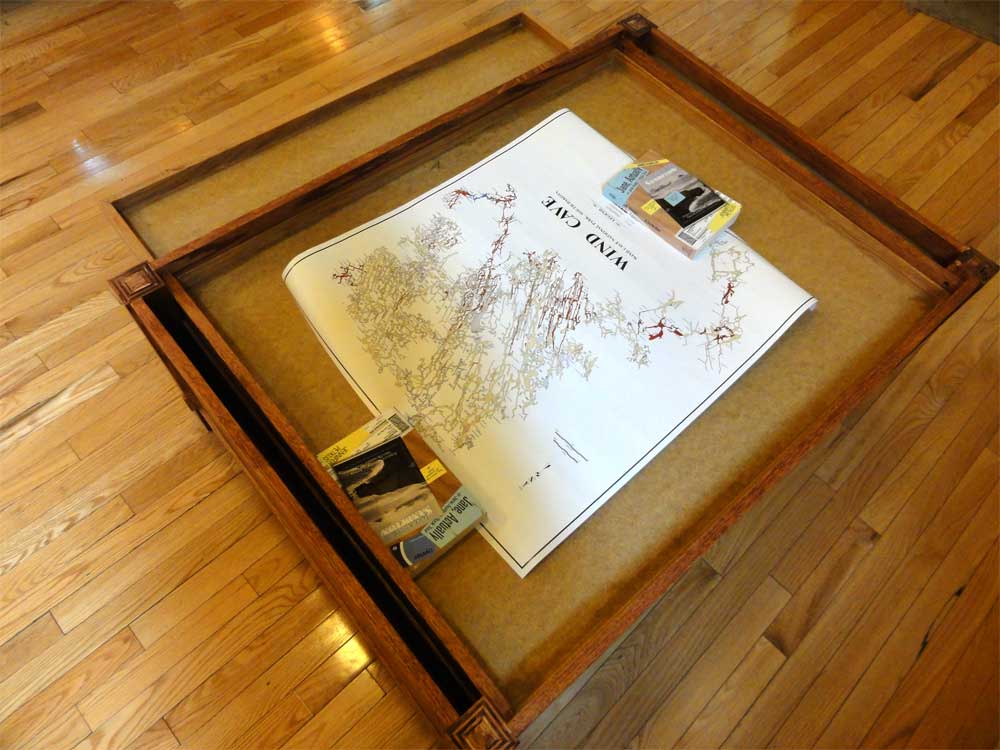 I stained the carcass Minwax Red Oak and the drawers Golden Oak. The drawer bottoms will be painted either a dark red or a dark green (like felt or baize), haven't yet decided. It still hasn't been given several coats of satin-finish polyurethane. I'll probably just put paste wax on the dividers/runners.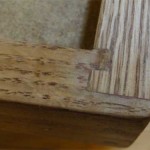 I have yet to order the glass top, which as I mentioned earlier, is quite expensive. If I order it locally, it will cost about $300. Nor have I built the wooden frame that supports the glass. I've decided that rather than make mortise and tenon joints, I want the look of mitered corners but I'll do a trick I tried once before for good effect. For strength and ease of joinery, I'll make half-lap/half-mitered joints. That results in the look of a mitered joint with the strength of a half-lap joint and it's a lot easier to glue up. (Were one to look at the underside, of course, you wouldn't see a mitered joint, but no one will ever be able to see the underside.)
I also need to order drawer pulls or knobs. Luckily Rockler has a line of pretty inexpensive knobs and pulls. I leaning toward this cupped pull, rather than a knob, and I will order some of these label card holders.