Denver to Edinburgh via Iceland / Day 1
As mentioned previously, to save money, I, my husband Jim, my friend Lee and her brother Jim would fly to Scotland via Icelandair, but to complicate matters, Lee's brother lives in Montana and would have to fly first to Seattle on another airline before boarding Icelandair (which explains his lost luggage). We three would leave on the same flight from Denver and join Lee's Jim in Iceland. Upon landing in Glasgow, Lee and her brother would rent a car and drive to Dunbar (45 minutes from Edinburgh and about an hour and half from Glasgow), while my Jim and I went to Edinburgh by bus and trainNeither the Glasgow nor Edinburgh airports have a train station and require a bus ride (not a free shuttle) to a train station.
EH-din-bra is roughly how to pronounce the name of the Scottish city, as my friend Lee was constantly reminding me. Intellectually I knew that and could consciously pronounce it properly, but I'd often pronounce it eh-din-BURG. I think to properly pronounce it, that EH has to be drawn out—EHHHH—and the din quickly added. The bra should really be pronounced as if the city's name were spelled Edinborough and you're quickly trying to pronounce borough. It's really not a rolled R, but it sounds that way in your rush to say it.
Our flight left Denver at a decent time—5:20 p.m.— and would get us to Glasgow at 10:40 a.m. the next day. Of course any idea I have of our actual travel time is muddled by the fact that Iceland, although in the same time zone as England, does not have Daylight Savings Time (why would they need an extra hour of daylight?), and the fact that our layover in Keflavik was longer than anticipated. I believe we arrived in Glasgow about 1 p.m., but I can't swear to that.
Unfortunately Lee's Jim arrived without his luggage, which he would not see again until Sunday. Then poor Lee, one of the two drivers of our shared rental car, had to brave the M8 after first negotiating four roundabouts in quick order, with essentially no sleep. I reproduce her first roundabouts below and I have a separate article about driving in the UK.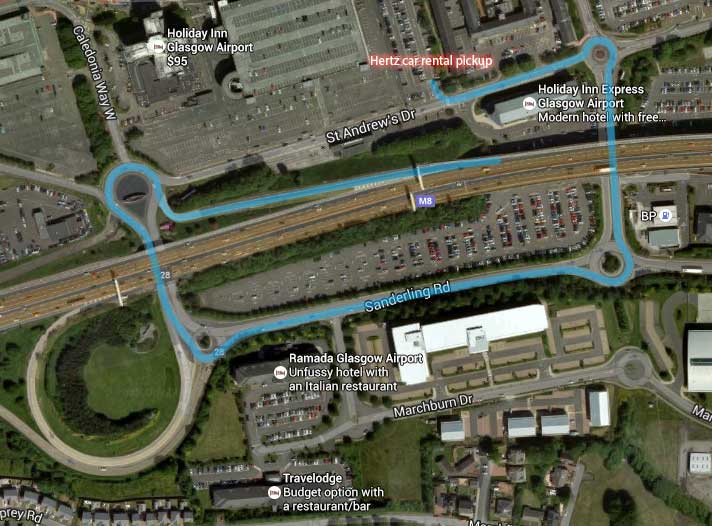 We meanwhile arrived in Edinburgh Waverley Station with little idea of where we were. We had a map from our guide book, but my normally reliable husband was a little turned around, no doubt from lack of sleep, and the fact that he was unaware of the topographyHe was intellectually aware that Edinburgh, like all great cities is built on seven hills, but figuring that out on the spot was difficult. of Edinburgh. We were to stay at the MacDonald Holyrood Hotel at the eastern end of the Royal Mile, which runs uphill to the west toward Edinburgh Castle at the top of a hill. We were standing outside the station, considerably downhill and to the north of the Royal Mile.
I showed Jim my saved Google map of Edinburgh, but without showing the terrain, we made a rookie mistake. The station lift up to Market Street deposited us right in from of Fleshmarket Close that leads to the Royal Mile and we stupidly went up its 76 steps, hauling our luggage up the worn stairs. (Jim figured out when we left Edinburgh via Waverley that we should leave the Royal Mile at Jeffrey Street, which avoids some of the slog up the Royal Mile.)
Of course Jim was further confused that streets in Edinburgh, as in many UK cities, change names several times. The Royal Mile is actually composed of Canongate, Lawnmarket and Castlehill and it is also the High Street. It's Jeffrey Street to the north of the Royal Mile but St. Mary's Street to the south. Street names often change block to block.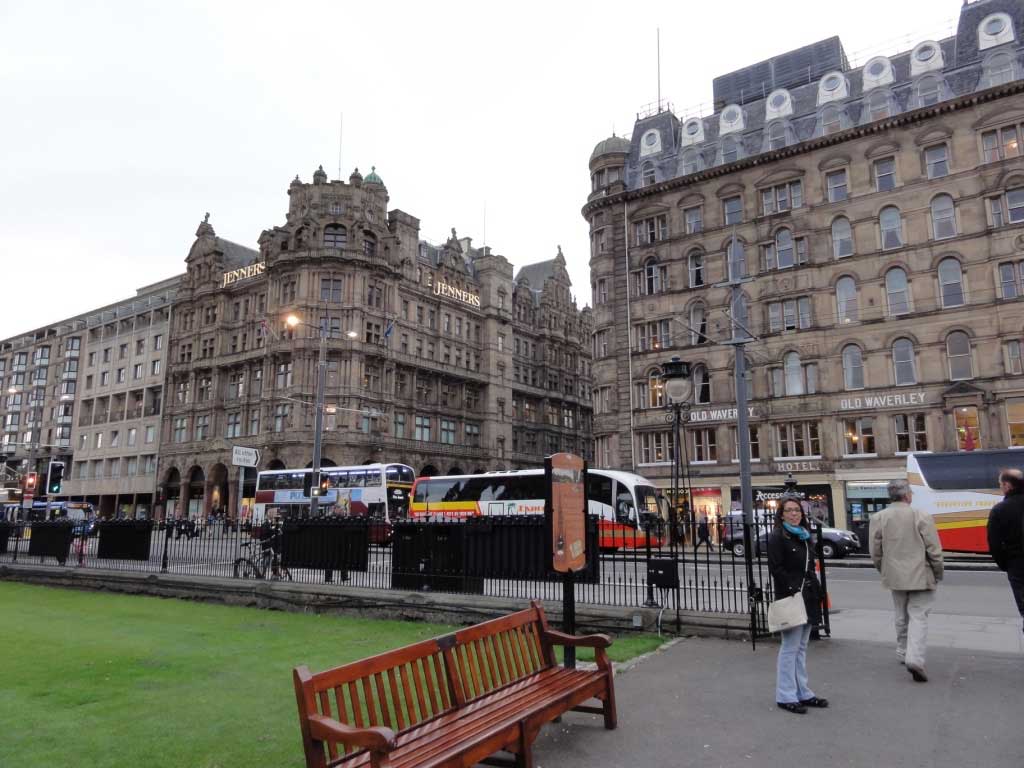 We finally got our bearings once Jim had the viewpoint of elevation and went down the mile toward Holyroodhouse Palace and our hotel, on appropriately Holyrood Road, just south and paralleling the mile. The Macdonald is a nice, modern hotel very near the equally modern but far weirder Scottish Parliament Building. The staff was friendly and helpful and the only complaint I have was the weird one-third shower door, that made it nearly impossible not to spill water on the floor.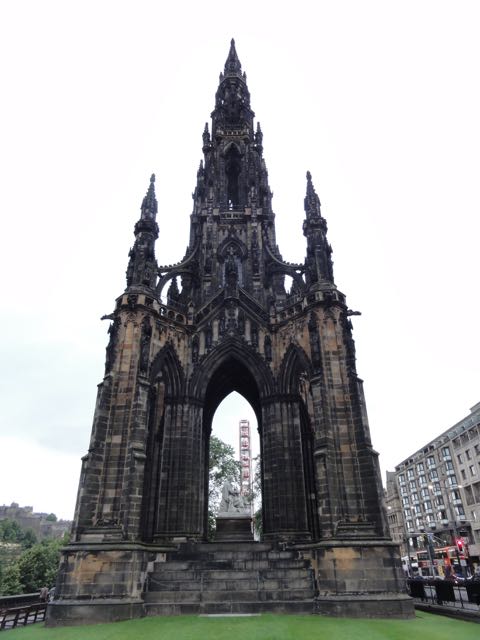 After dropping off our luggage at the hotel, we had little time to do anything other than go back up the Royal Mile, turn north at North Bridge and towards Princes Street to buy washcloths. We were a little surprised because during our last stay in London and Bath in 2011, every hotel and bed and breakfast provided us with washcloths, but apparently Scotland remains behind the times. We found a Marks & Spencer very near the Scott Memorial (I love UK department stores and their food malls) and bought a flannel for our face (apologies to Squeeze) and received a confirmation from the clerk that yes, a flannel remains a personal item and most people travel with their own. ("Och, yes dear, a flannel's too PEAR-son-al an item." She really didn't say it like that, but close.) We waited in line behind an American and a Canadian buying towels for their children who would be attending Edinburgh schools.
From there we went back to the Royal Mile and walked some distance toward the castle in search of food. The mile, as you're probably not too surprised to learn, is full of tourists, buskers (including the ever popular living statues covered in gold paint), gift shops (selling primarily shortbread biscuits, wool scarves and full tartan outfit including tam o'shanter, kilt, sporran, socks and boots) and pubs like The World's End and The Rabbie Burns, but we opted instead for the Shamboli Thai and Indian restaurant where I had the hottest and tastiest lamb vindaloo I ever had. Unfortunately the service was abysmally slow, enough to upset Jim.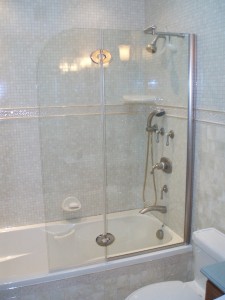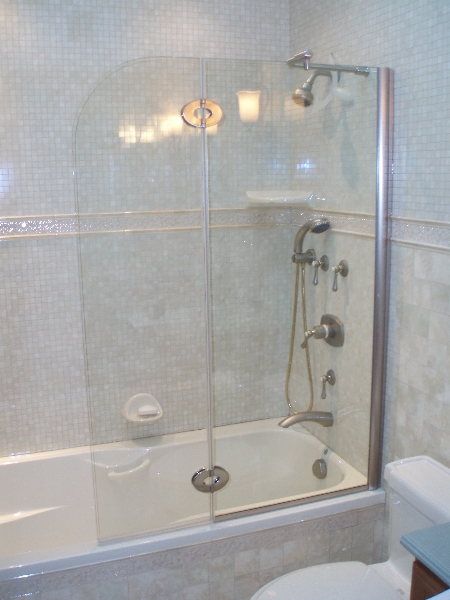 After the unusually long dinner, with me starting to hallucinate from lack of sleep, we stumbled back to the hotel, walking almost all the way down the Royal Mile until turning at a Starbucks down Crichton's Close A close is supposed to be a cul-de-sac, but I found many closes connected to another street. A wynd is more akin to an alley to the hotel for a good night's sleep, which brings me to the other bane of my UK hotel stays—duvets.
If you're not familiar with these, they're similar to the American comforter except that the outer cover is meant to be removable for easy washing. That's fine, except that hotels and most homeowners then eschew the top flat sheet. When they were introduced in the 1970s, duvets were billed as giving women extra time because it was one less piece of bed linen that needed to be fitted, but the insulating material in a duvet is usually some sort of down and is quite warm and I get hot during the night. At home, I might kick off the comforter but retain the top sheet. Admittedly, these are first world problems, but I hope this fashion never succeeds in America.